Link to Change
Carousel Project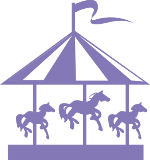 Link to Change works with young people aged 12-26 years who are either affected by, or at risk of, Child Sexual Exploitation.
We recognise that many young people affected by CSE can face issues with their schooling and often miss large chunks of their education which, in turn, has a detrimental effect on their potential future opportunities.
Some young people often become more vulnerable to exploitation if they are missing school due to other difficulties in their lives.
All young people have a right to an education. Our Carousel Project aims to support young people within their place of learning to achieve this right, despite what is happening in their lives. Our specialist CSE Education Worker can support individuals and small groups of young people and offer half day training to school and education staff.
"

It is important that education institutes are alert to sexual exploitation and that education staff can identify signs that a child or young person is at risk of or suffering sexual exploitation and know what action to take in line with local procedures

"

Government guidelines on safeguarding young people from CSE
Training for Teachers/School Staff
We can offer a half day free training session consisting of:
Understanding CSE and recognising risk indicators;
Increasing confidence in talking about CSE with students;
Resources to support education around sex, relationships and keeping safe;
Increase knowledge around how to best support and protect pupils affected by, or at risk of, CSE to keep them engaged in education.
(Further sessions can be arranged but these will be chargeable.)
Individual Support
Offer liaison support between the young person and school. Young people have told us they preferred to have a designated teacher/support worker to liaise with in school;
Identify the young person's needs and advocate their voice;
Negotiate plans to support both parties in encouraging school attendance/improved concentration behaviour to prevent exclusions.
Group Work
Self-esteem, aspirations and future goals;
Equal and safe relationships;
Sex and the law, consent;
Recognising risks, keeping safe.
For further information regarding making a referral or booking training please contact our Specialist Education Support Worker, Katy Robins. Email Katy@LinktoChange.org.uk or telephone on either 07856 588233 or 01480 474974.
Completed referral forms should returned to us either by email (Blanca@linktochange.org.uk) or post (Link to Change, 38a High Street, St Neots, Cambs, PE19 1JA).
The Carousel Project is supported by the Esmée Fairbairn Foundation.